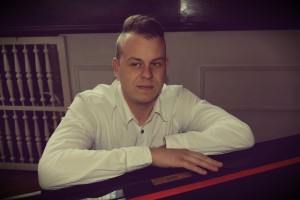 Michał Ratkowski was born on April 1987 in Chojnice (Poland). He's a graduate Music Academy F. Nowowiejski in Bydgoszcz (Poland) on specialties: Music Education. He's a talented artist and composer of music for games, animations, film, theatre, radio and television. Michał began musical education with piano lessons at he was 5 years old. Pursues his passion for today. In his work is inspired by such composers as: Charlie Clouser, Hans Zimmer, John Williams and Danny Elfman.
Since 2011, owner in "MICHAŁ RATKOWSKI – USŁUGI TWÓRCZE-KOMPOZYTORSKIE".
The company is a professional audio support for games, movies, animations, etc.
We realize: music compositions, sound design, voice-over.
Since 2015, member of HYBRIDRAVEN (www.hybridraven.com). 
"Each note shows a part of my life"
                                                                                                                                                                                                                    Michał Ratkowski